Just yesterday, the world was shook with the devastating news that much loved Hollywood actress Carrie Fisher had sadly passed away. The world's favourite space princess was taken from us just days after suffering a heart attack whilst on a flight back home to LA. As a die-hard Star Wars fan myself, and a huge admirer of Carrie, who was devastated by the news, I wanted to write a little bit about what an amazing woman she was.
Carrie touched the lives of many throughout her career, her most prominent and recognised role being that of Princess Leia Organa in George Lucas' Star Wars franchise, which Disney acquired when they bought Lucas Film back in 2012. Due to her phenomenal performance in the original trilogy, which began way back in 1977, Fisher has always been held close in the hearts of fans all over the world, who were delighted to see her revise the role in Episode VII, which was released only last year, and her death is certain to have caused mass heartbreak.
It was my brother who broke the news to me on Tuesday night, and for a few minutes I sat still and in silence as I processed what I had just heard. The fact that Carrie had been confirmed as being in a stable condition just a few days earlier had put my mind at ease and convinced me that she would recover, meaning hearing the news was more of a shock than I ever could have imagined and I didn't quite know how to respond. After a couple of minutes I went up to my room, sat on my bed and had a little cry to myself. I never imagined a celebrity death to hit me as hard as this did, after all, I didn't know her personally, I had only ever seen this woman on my TV screen. Yes I expected to be saddened by the news, but not this devastated. My heart sank in a way it only has a small number of times before and I was overwhelmed with sadness. But why? Why did the news of Carrie's passing, a woman who I had never met, hit me so hard? She was my hero. My first real role model. Since I first watched A New Hope at around 4 years old, I had looked up to this woman. This strong, fierce, beautiful woman. And she was gone. She had inspired me in ways not many other people have, with her confident, no nonsense attitude, on and off screen, she had made me want to be just like her and I will be forever grateful for the things that she taught me, I can only hope that I will become even half the woman she was, then I will be happy. She inspired girls everywhere, proving that you can be a pretty face, but also a badass space princess who won't take crap from anyone! Especially stuck-up, half-witted, scruffy-looking nerf herders like Han Solo! She was one of kind, totally irreplaceable.
What makes this tragedy more heart-breaking, is the response from Carrie's colleagues and friends, who are quite clearly devastated. Tweets from various cast members over the past few days clearly show the love and support that exists amongst the Star Wars family. After the news of Carrie's death was announced, Mark Hamill, aka Luke Skywalker, Carrie's on screen brother, simply tweeted: 'No words #devastated' followed by a short paragraph dedicated to her: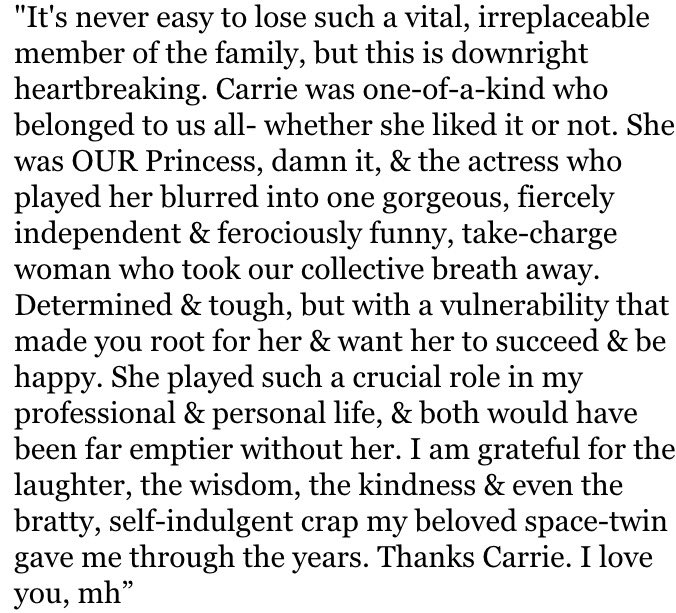 Peter Mayhew, who plays much loved Wookiee Chewbacca has been tweeting words of support since Carries was taken ill on Friday. Samuel L. Jackson, who starred in the Star Wars prequels tweeted: 'The light in The Galaxy is dimmed by the loss of our Princess Leia. May The Force Be With Her!! RIP'. Anthony Daniels, who plays C3-PO tweeted: 'I thought I had got what I wanted under the tree. I didn't. In spite of so many thoughts and prayers from so many. I am very, very sad', followed by a touching photo: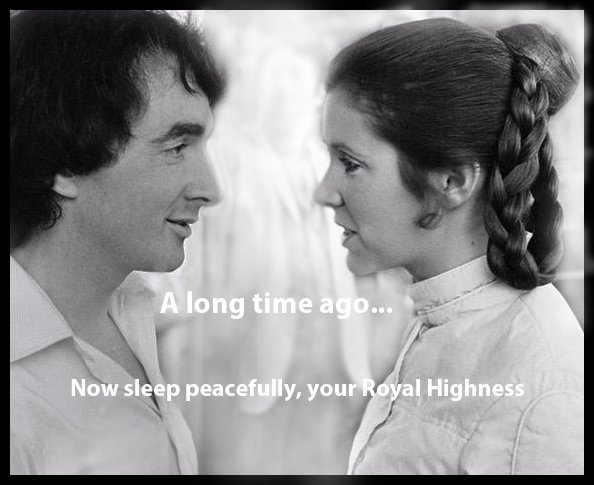 Daisy Ridley and John Boyega, stars of The Force Awakens have also posted on social media, showing their sadness and paying tribute to their co-star. Carrie clearly touched the lives of all those she worked with, and her death has devastated many people, both in and out of Hollywood.
However, it is important to remember that Carrie was not only an incredible actress. She was a human being with her own life and her own struggles. She had publicly spoken out about her battles with mental health, after she was diagnosed with bipolar disorder at the age of just 24. Not only this, but she also spoke out about her struggles with drug addiction, that began at a young age. Carrie once said "People relate to aspects of my stories and that's nice for me because then I'm not all alone with it," she said. "Also, I do believe you're only as sick as your secrets. If that's true, I'm just really healthy." She was always open about her struggles and was determined to remove the stigma around mental health, becoming a role model to many people who related to her situation and she no doubt helped the lives of many because of this.
Although it has been confirmed that Carrie had completed all filming for Episode VIII, the question remains as to whether she will star in Episode VIIII. Will she follow in her husband Han's footsteps and be killed? Or will Lucas Film take advantage of CGI and use this to ensure Leia lives on? I guess we will find out in the near future, but for now, I'm sure that is the last thing on everyone's minds.
Carrie's death is a terrible tragedy that has left a hole in the hearts of many, many people. She was taken from us too soon at the cruel hands of 2016, along with so many other great people. Nevertheless, time is a great healer and we should look back and remember all the good she did for so many people, and be grateful for the amazing work she provided us with. Carrie once said 'I don't want my life to imitate art, I want my life to be art', and in my eyes, her life was a masterpiece, and one she should be very, very proud of.
Have fun up there with R2, you will be forever in our hearts Princess!